Wiki News Article Reported on July 30, 2010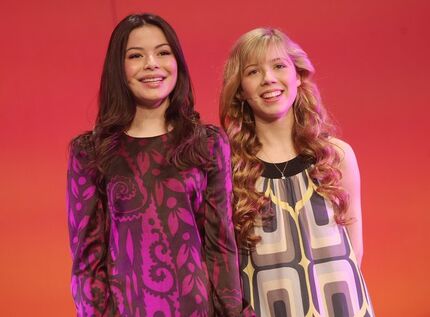 Miranda Cosgrove (Carly Shay) and Jennette McCurdy (Sam Puckett), stars of "iCarly" officially made a cheerful surprise to their fans of "iCarly". They came here to support the film and thanks to fans for showing up to enjoy the movie.
"This movie is very funny that it will make you laugh and it will be sad that it will make you cry." Cosgrove said while at the movie theater surprising fans. "We hope you enjoy!" McCurdy said.
Speaking of it, fans are wondering that Nathan Kress, who played Freddie Benson, didn't show up. Cosgrove apologies to fans: "We're so sorry, Nathan and Jerry will not be here today. But we hope you'll see him sometimes." Also, Jerry Trainor, who played Cosgrove's brother, will also not be able to show up as well.
Also McCurdy tells fans that a brand new season of "iCarly" is coming tonight at 8:00 on Nickelodeon. Cosgrove said: "This new episode is "iGot A Hot Room. It's about Spencer trying to surprise Carly on her birthday, until he accidentally burned down her bedroom. We hope you enjoy the movie and a brand new season coming out Tonight!"
Speaking of that, "iCarly: The Movie" is a huge hit last night, where it grossed an estimated $4 million from it's midnight showings, that a lot than "Hannah Montana: The Movie", which brought $2 million last year. And "iCarly: The Movie" will gross $50 million at the box office over the weekend to become the biggest for a G rated movie, to compare to "High School Musical 3: Senior Year" with $42 million, to make Cosgrove the happiest girl in the world.
Ad blocker interference detected!
Wikia is a free-to-use site that makes money from advertising. We have a modified experience for viewers using ad blockers

Wikia is not accessible if you've made further modifications. Remove the custom ad blocker rule(s) and the page will load as expected.